Permanent Exhibitions "The Culture of the Chinese Region: The Indigenous Cultures of Taiwan."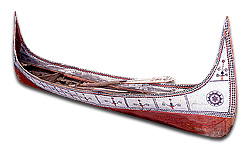 The exhibition focuses on items related to the indigenous cultures of Taiwan, mainly artifacts that were collected by the naturalist KANO Tadao. He was fascinated by their culture in the beginning of the Showa era.
KANO was a researcher who was active during the period from the end of the Taisho era and through the Pacific War. In order to find time for collecting insects, a hobby which he started when he was in elementary school, he entered Taipei High School and walked around the mountains in Taiwan. In those mountain lands, lived a number of aboriginal tribes.
He soon started his research on a small island east of Taiwan called
Lanyu
. (At that time, this island was called in Japanese
Kotosho
.) This is because on the island, there ranged an insect which would become a key to understanding the relation between the fauna of Southeast Asia and the Chinese continent. Some of the insects that he found are named after him, such as
Pachyrrhynchus insularis Kano
. The cutoff line of fauna had been speculatively drawn between Taiwan and the Philippines. However, by his effort, it was redrawn between Taiwan and
Kotosho
an achievement that is internationally highly evaluated.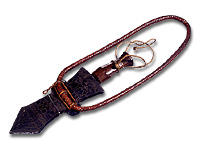 During his stay in
Kotosho
, KANO established close ties with the Yami people and gradually became strongly interested in their culture. The thing that he was most interested in was the construction festival of boats that Yami people used when catching flying fish. This festival was called
mibarai
and was held to send off a new boat when it was first launched. People from near and far came to join the festival. At the climax of the festival, men paraded along the street to the beach carrying the boat on their shoulders. KANO recorded the whole scene with his favorite Leica camera. The record of the festival is still remembered in the island even half a century later. How can we learn about his fieldwork? We will introduce you to his collection, and give you a taste of his work. (
KANO Tadao biographical sketch
)
Person-in-charge of this exhibition:NOBAYASHI Atsushi
(Translated from the June issue of Gekkan Minpaku, 2003)