Indian Popular Art: Encounter with European Modernity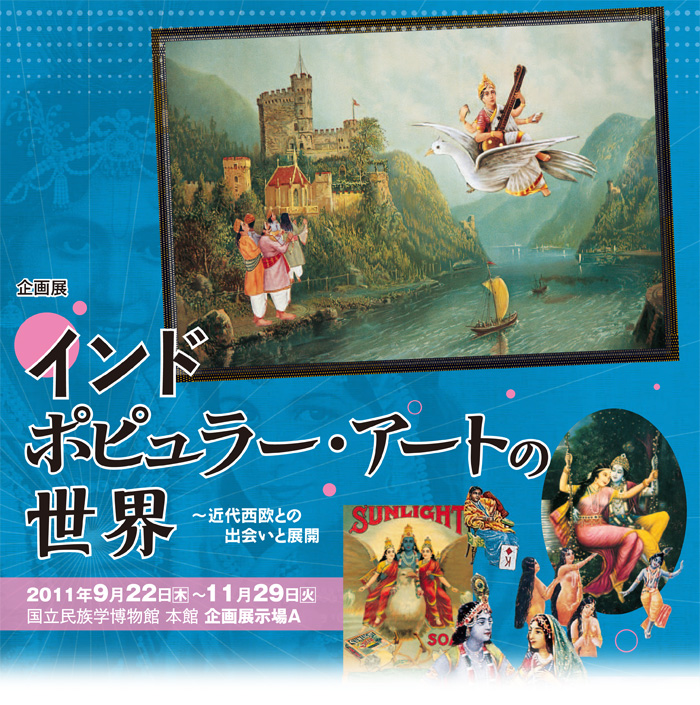 In the late 19th and early 20th centuries, unique forms of Indian popular art appeared, influenced by India's encounters with the West. These include religious prints, color photographs, picture postcards, posters, calendars, match box covers s and cigarette packages. Here we introduce the origins of contemporary images of India through a collection of nearly 140 prints, posters and collages.
Exhibition Period: September 22 - November 29, 2011

Venue: Thematic Exhibition Hall A, National Museum of Ethnology

Hours: 10:00 a.m. – 5:00 p.m. (Entry is permitted until 4:30 p.m.)

Closing days: Every Wednesday (When the Wednesday is a national holiday, the following day is closed instead)
Admission fee for the Main Exhibition Building is required. 
Details
※Admission is free every Saturday for elementary, junior high, and senior high school students.
Exhibition Aims
Indian popular art is built on traditions of religious paintings and miniatures, which were then heavily influenced by the printing technologies and Western style composition and motifs introduced into India during the 19th century. In response, many distinctive genres, each with its own themes and techniques, evolved. These include religious images, posters, calendars, match box covers and cigarette packages. This was truly art as part of everyday life. Interpreting Indian popular art will lead us to a deeper understanding of the world views and values of the people who produced and appreciated it.
The popular art of this period has had a tremendous effect on the construction of current images of India and on the aesthetic sensibilities and interests of the Indian masses of today. Popular art is, thus, an important key to understanding contemporary India.
This thematic exhibition presents 140 examples of Indian popular art collected by Dr. Jyotindra Jain, who for many years was director of the Crafts Museum, Delhi, as well as president of the Indira Gandhi National Centre for the Arts. This exhibition has been widely acclaimed in the UK, France and Germany as well as in India itself. This is the first time that it has been shown in Japan.
Organizer: National Museum of Ethnology