Ise Somekatagami-Expert Workmanship Shown in Video and Actuality-

Exhibition Period: March 25 (Thursday) – June 29 (Tuesday), 2010
Location: Exhibition Area of the main building, National Museum of Ethnology
* An admission fee is charged for exhibitions in the main building.
More Information

* Admission is free for elementary, junior high school, and senior high school students every Saturday.

Download the flyer [PDF: 1.9MB]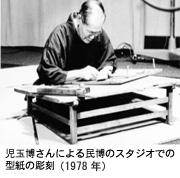 Katazome is a technique for dyeing fabrics, which has traditionally been handed down in Japan. Before the actual dyeing of the fabrics, Katazome entails different procedures. A brief sketch of the procedures follows: by using carving knives, some-katagami (cut-paper stencil patterns) are created by carving Shibugami, which are made by gluing Japanese washi papers together with persimmon tannin; after placing the hand-carved some-katagami on the fabric, starch is painted over them.
During the Edo Period, the Katazome method was employed in various regions of Japan, and the dyed fabrics were primarily used to make kimonos.
Shiroko and Jike of Suzuka City in Ise (Mie Prefecture) are well-known production areas of some-katagami, which are essential for making Katazome. The hand-carved some-katagami in Ise were supplied to dye shops in different regions of Japan, and these cut-paper stencils produced in Ise have gained popularity as "Ise Katagami."
From the Meiji Era onward, the westernization of Japanese clothing styles has decreased the demand for kimonos produced by using the Katazome method; inevitably, the demand for "Ise Katagami" has also declined. However, the tradition of using this sophisticated production technique has been vigorously handed down to present.
From 1978 to 1980, the first video material production project by the National Museum of Ethnology was conducted in the museum studio and in the areas of Shiroko and Jike in Suzuka City. We videotaped the carving techniques of shimabori, tsukibori, kiribori, and dogubori done by various people, including living national treasures (nationally designated important intangible cultural heritage). The technique of itoire, the reinforcement method for the hand-carved paper patterns, was also recorded, and the paper stencil patterns produced during the project were collected and preserved as well.
In this thematic exhibition, the videos recorded for this project are shown and samples of "Ise Katagami" are displayed, along with some of the old "Ise Katagami" and books of paper patterns used during the Edo and Meiji Eras. The exhibits also include some modern "Ise Katagami" produced by members of the Ise Paper Stencils Technique Preservation Society, carving knives, other paper pattern-making tools, and fabrics and kimonos dyed using "Ise Katagami."
In the exhibition site, fabrics and kimonos that were dyed with modern print technology are also displayed for comparison. Along with the detailed techniques of "Ise Katagami" workmen, this exhibition also introduces the current state of this handicraft that is rapidly disappearing from modern society.
RELATED EVENTS
Gallery Talk

Commentator: YOSHIMOTO Shinobu (Professor at the National Museum of Ethnology)
April 6 (Tue) 2:30 p.m. – 3:30 p.m., May 18 (Tue) 2:30 p.m. – 3:30 p.m., June 15 (Tue) 2:30 p.m. – 3:30 p.m.

Minpaku Weekend Salon

"Ise Some-katagami" by YOSHIMOTO Shinobu (Professor at the National Museum of Ethnology) April 25 (Sun) 2:30 p.m. – 3:30 p.m.