The Eye of the Ethnologist: Umesao Tadao

Exhibition Period: March 3 – June 14, 2011
Location: The Main Exhibition Hall, National Museum of Ethnology
Hours: 10:00 a.m. – 5:00 p.m.

(Entry permitted until 4:30 p.m.)

Closing days: Every Wednesday

(but open May 4, due to a national holiday)
* Admission fee for the Main Exhibition Building is required. 
Details

* Admission is free every Saturday for elementary, junior high, and senior high school students. Those visitors will, however, need to pay the admission to the Natural and Cultural Gardens separately if they wish to enter that way.

Download the flyer
[PDF:449KB]
Umesao Tadao himself selected 46 photographs which he took during his travels around the world for the exhibition The Eye of an Ethnologist: Umesao Tadao.The exhibitiontraveled throughout Japan from 1982 to 2010.
The exhibition has been reproduced as a thematic exhibition at Minpaku in associated with the special exhibition Umesao Tadao: An Explorer for the Future. Please take this opportunity to explore how Umesao, a member of the Japan Professional Photographers Society as well as an ethnologist, saw the places and peoples he visited through the lens of his camera.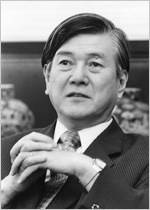 | | |
| --- | --- |
| The Naxi are a people who live in the Naxi Autonomous Zone in Yunnan Province in the People's Republic of China. Farmers whose culture resembles that of Tibetans, the Naxi live near the great curving gorge close to the headwaters of the Jinsha River, in the foothills of Yulong (Jade Dragon) Mountain. They have long been in contact with Han Chinese culture and been influenced by it, but retain their distinctive customs and culture. They are famous for their Donba script, a pictorial form of writing. (1979) | |
| | |
| --- | --- |
| | Sahba City, in the Fezzan district of the Kingdom of Libya. Sahba, located in the south of Libya on the edge of the Sahara, is where camel trains were assembled for trips across the desert. Here vast numbers of camels were put out to pasture on what at first glance appears to be a barren desert. The camels are guarded by Bedouin nomads.(1968) |
| | |
| --- | --- |
| Cerqueto, a village in the Abruzzo region of Italy. During its annual festival, the images of Mary and other saints are brought out of the church and paraded around the town. Old and young join the parade, which includes bands from neighboring villages.(1969) | |
Related Exhibition Information
Special Exhibition: Umesao Tadao: An Explorer for the Future
Exhibition Period: March 10 – June 14, 2011
Location: The Special Exhibition Hall, National Museum of Ethnology