Staff Members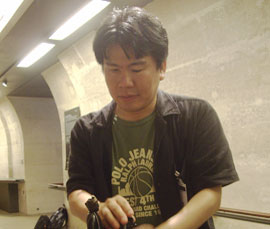 Academic Qualifications
B.A. Kyoto Univ. 1991
M.A. Kyoto Univ. 1993
D. Litt. Kyoto Univ. 2000
Research Interests
Anthropological Study on the Handicapped Culture
HistoricalSstudy on New Eligions in Modern Japan
Current Research Topics
I have been studying the history of new religions in Modern Japan, especially I am interested in Omotokyo. I have been also doing my fieldwork on biwa-hoshi (blind minstrel) and itako (blind shaman). Now I have started the new research on Reiyukai, one of the greatest Buddhism sects based on documents and interviews. In my study on new religions, I have focused on the welfare work of each religious society. I have also continued my fieldwork on blind religionists or biwa (lute) players in Japan. Besides this, I will try anthropological methodology on the handicapped culture. I am planning the inquiry into the occupation, life-style and history of the disabled in the U.S.A. and various countries. This comparative study will be very useful for the promotion of "barrier-free" or "universal design" system of museums.
Research Keywords
Japan, Tohoku, Kyushu, Kyoto, Japanese, History, Religion, Welfare, Culture
Publications (English publications only)
2010

Various Possibilities of "Braille Power": In Search of the New Image of Louis Braille in the 21st Century. MINPAKU Anthropology Newsletter 30: 10–11.

2010

The Richness of Touch: The Paradoxical Meanings of Disability in Japanese Culture. THE EAST ASIAN LIBRARY JOURNAL 13 (2): 59–85. Princeton University.

2006

Universal Museum: Efforts to Create and Passions for Opening. Mimpaku Anthropology Newsletter 23: 13.

2006

Touch and Grow Rich: You Can Touch Our Museum! Mimpaku Anthropology Newsletter 22: 10.

2003

Reconsidering Japanese Religious History: The Aum Incident and Blind Culture in Modern Japan. The Journal of the International Institute. University of Michigan.

2003

"Judo" or "Aikido": Propagation Strategies of Tenrikyo in the United States. Progress. Tenrikyo Mission New York Center.

1997

The Cosmology of Mind and Body. Orient (July). Florida, U.S.A.