Rescuing History and Culture Support for cultural treasures that have been affected by disasters, starting with the Hanshin-Awaji Earthquake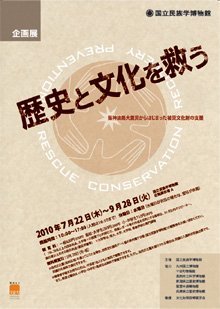 Exhibition Period: July 22 (Thursday) – September 28 (Tuesday)
Location: Thematic Exhibition Area A, National Museum of Ethnology
Hours: 10:00 a.m. – 5:00 p.m. (Entry permitted until 4:30 p.m.)
Closed: Wednesdays (When a national holiday falls on Wednesday, the following day is closed instead.)
* An admission fee is charged for exhibitions in the main building.
More Information.

* Admission is free for elementary, junior high school, and senior high school students every Saturday.

Download the flyer
[PDF: 2.15MB]

When disasters such as earthquakes and flooding occur, various support activities are developed and the afflicted area makes strides toward recovery. Among these activities, do you know about those that support the recovery of cultural treasures that have been affected by disasters?
It goes without saying that when a disaster takes place, support for activities that save lives and restore living conditions take priority, but rescuing cultural treasures that contain the historical and cultural memory of an area is also important. Also, rescuing cultural treasures, restoring them to their proper state, and passing them on to the next generation provide emotional support for people on the road to recovery.
This thematic exhibition looks back on the course of various support activities during calamities, along with the cultural properties that have been afflicted by disaster. In the section where we feature rescue activities for disaster-afflicted cultural properties, we reaffirm local culture via citizen-based volunteer activities, and we look at how people regain their vitality. In the preservation and restoration activities section, we show the actual targeted emergency measures and restoration technologies that are carried out by researchers and specialists. Finally, we present various measures to prepare for future disasters based on previous cases.
It has been 15 years since the Hanshin-Awaji Earthquake which brought unprecedented damage to the Kansai area. We hope you will look at the support activities for cultural properties that began at that time and think about future preservation activities.
Research Center for Cultural Resources, National Museum of Ethnology, HIDAKA Shingo

In activities to aid disaster-afflicted cultural treasures, many people are involved in various activities. These activities can be categorized into roughly eight stages when sorted by level. No matter what the situation, each procedure is conducted at the appropriate stage.
Afflicted by Disaster
A state in which a disaster has occurred and damage sustained but nothing has been done.
Rescue/Temporary Custody
The cultural treasure is removed from the disaster area and temporarily held at a safe location.
Emergency Measures
Work is performed so that cultural treasures that are covered in dust and mud or damaged do not fall into an even worse condition.
Organization/Recording
The task of verifying the number and historical background of the rescued cultural treasures and recording them.
Preservation/Restoration
Specialists perform preservation and restoration work on disaster-afflicted cultural treasures that have been deemed to be in need of serious restoration work.
Permanent Storage
The act of returning the cultural treasure to its owner or entrusting it to a museum for safekeeping.
Research/Application
Conducting specialized research and disclosing the findings in the course of "Organization/Recording" and "Preservation/Restoration."
Disaster Prevention
Activities in which the lessons learned through support activities are put to use in preparation for future disasters.
Reports on the activities pertaining to examples that could not be presented in this exhibition will be summarized in a leaflet and distributed.

The 386th Tomo-no-kai Lecture:
"Memories of History and Culture That Disaster-afflicted Properties Tell Us About"
Date and Time: August 7 (Sat), 2010, 2:00 p.m. – 3:00 p.m.
Location: Seminar Room No. 5 on the 2nd Floor of the Main Building, National Museum of Ethnology
Lecturer: HIDAKA Shingo (Associate Professor at the National Museum of Ethnology)
WEEKEND SALON Let's Talk With Researchers! "Rescuing Disaster-afflicted Cultural Properties"
Date and Time: August 15 (Sun) 2:30 p.m. – 3:30 p.m.
Location: Thematic Exhibition Area A, National Museum of Ethnology
Lecturer: HIDAKA Shingo (Associate Professor at the National Museum of Ethnology)
Open Symposium of the Japan Society for the Conservation of Cultural Property:
"Protecting Cultural Heritage—Protecting Ethnic Materials"
Date and Time: September 11 (Sat) 1:00 p.m. – 4:30 p.m.
Location: National Museum of Ethnology Auditorium